Vincenzo Grifo honoured for exceptional fair play in Bundesliga season 2021-22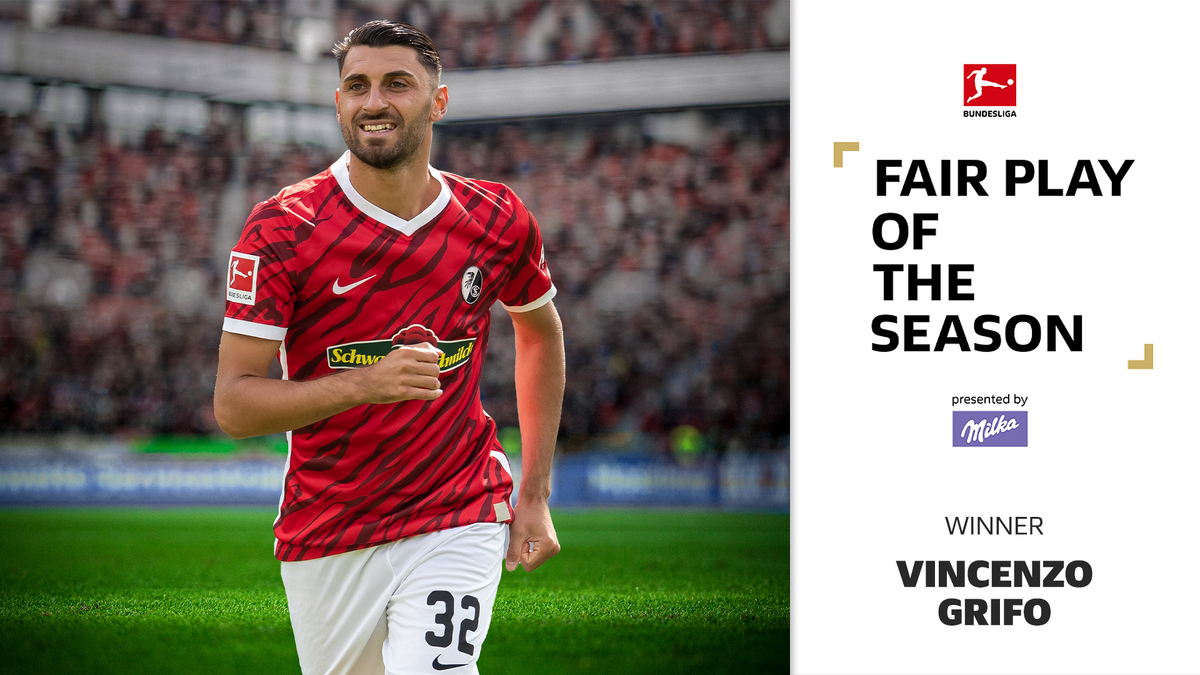 10 June 2022 – Vincenzo Grifo from SC Freiburg has been honoured by fans, team captains, former Bundesliga stars and media representatives for exceptional fair play in the 2021-22 season. During the game against Eintracht Frankfurt on Matchday 12 – with Frankfurt leading 2-0 – Grifo went down in the opponents' penalty area. Before debates over a potential penalty kick could start, he immediately signalled to the referee that there had been no foul deserving of a penalty.
A total of six scenes from the past season, which symbolised ultimate fairness and respect on the pitch, were nominated for the first-ever "Fair Play of the Season Award". The nominations for the award, presented by Milka, were selected by Bundesliga Legend Philipp Lahm. The captain of the German World Cup-winning team of 2014 never received a sending-off or ban during his 384 Bundesliga appearances for FC Bayern München and VfB Stuttgart.
The biggest vote share (40 percent) came from the fans, who picked their favourite directly on the fairplay.bundesliga.com website. Votes were also cast by the team captains of the 18 Bundesliga clubs (30 percent), as well as a panel of experts comprising members of the "Bundesliga Legends Network" and representatives of national and international Bundesliga media partners (30 percent).
The nominations were based on the "Fair Play Moments" – a regular video format on Bundesliga channels launched at the start of the 2021-22 season. Like the new award, the "Fair Play Moments" series was developed together with Mondelēz International, an Official Partner of the Bundesliga and Bundesliga 2.
Fittingly, the Bundesliga saw fewer sending-offs per match (0.08) and in total (24) over the past 2021-22 season than any other top European league.