"Vision Day" presented by AWS: The second day of SportsInnovation 2022 in review
12 May 2022 – Dubbed "Vision Day", the second day of SportsInnovation 2022 boasted a new feature: for the first time, the organisers of the innovation trade fair hosted a full-day conference, structured according to the topics that formed the basis for the first day's Innovation Games.
The programme for the day was kicked off by Andreas Heyden, Executive Vice President Digital Innovations DFL Group, and international sports commentator Derek Rae. The "Sports Performance & Technology" topic began with a presentation from Shelly Palmer, CEO of The Palmer Group, who explained the basics of blockchain technology before discussing the potential of the metaverse for the medialisation of sport. Tony Page, President of Sport Experience at Deltatre, gave a presentation on how to make better use of the many cameras and sensors deployed at a modern sporting event, in order to provide deeper insights into the action.
Generation Z and the world of sports
Next up, Derek Rae hosted a panel featuring Frank Bohmann (Managing Director of LIQUI MOLY Handball-Bundesliga), Steve Hellmuth (Executive Vice President of Media Operations & Technology for the NBA) and Dr Maximilian Schmidt (Global Lead of KINEXON's sports and media division), discussing how Generation Z, a generation shaped by digital media, prefer to access the world of sport. The speakers agreed that a multifaceted and individually configurable media experience has a key role to play. Luuk Figdor, Senior Sports Technology Advisor EMEA at Amazon Web Services (AWS), used his presentation to highlight the importance of machine learning for high-volume data processing.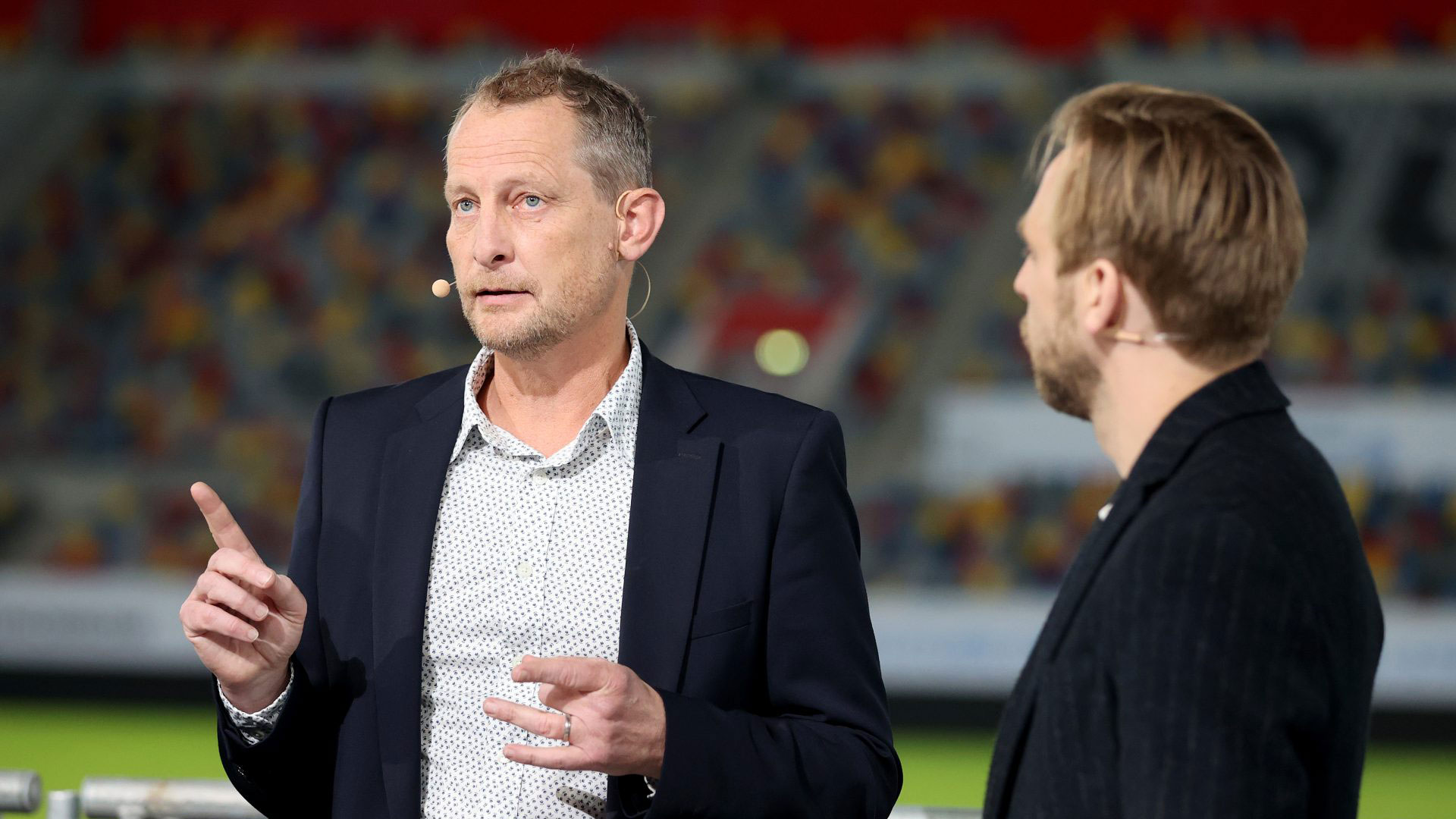 The "Fan Experience & Stadium" content track was introduced by Joshua Helmrich (Director of Media and Business Development for the NFL), Andreas Heyden (Executive Vice President Digital Innovations at the DFL), Timm Jäger (Managing Director of EintrachtTech) and Emanuelle Roger (CEO of immersiv.io). The discussion yielded interesting insights into the use of augmented reality and monitoring of the data value chain. Dirk Lueth, Co-CEO of Upland, outlined his vision of a virtual world of experiences and its interaction with reality. The potential of the metaverse was then discussed in more detail in an interview with Lueth and Alexander Schlicher, CEO of Fansea, conducted by Rolf Leister.
Skarpi Hedinsson explains the new SoFi Stadium
Skarpi Hedinsson, Chief Technology Officer for the Los Angeles Rams, reported on the extraordinary visual and technical opportunities offered by the new SoFi Stadium, one of the most innovative stadiums in the world. Albrecht von Senden, Managing Director of Tipico Technology Services GmbH, described how artificial intelligence and scalable computing infrastructure ensure more secure transactions in a data-intensive and regulated industry.
Maximilian Fürst (Team Manager Gaming Operations at Hertha BSC GmbH & Co. KGaA), Birger Nass (Manager Security Management at the DFL), Kai Ruben (Head of Organisation at Borussia Dortmund) and Viviane Schmidt (Lead Solution Architect for Edge & Data Analytics at Hewlett Packard Enterprise) provided reports from the "Stadium Innovations Project Group" led by the DFL and DFB and on initial pilot application of new technologies in stadium operations.
The conference programme concluded with a look at "Broadcast & Content". Disruptive innovations in broadcast technology, which are set to enable the world of live production to achieve enormous improvements in performance, were discussed by a panel featuring Haruka Gruber (Senior Vice President of Media at DAZN), Hellmuth , Dr Steffen Merkel (Executive Vice President of Audiovisual Rights and member of the Management Board at the DFL), Laurent Petit (Senior Vice President Products and Solutions at EVS Broadcast Equipment) and Michael Reinartz (Director of Innovation at Vodafone GmbH).
The future of video content and interaction with fans
A presentation by Patrick Mostboeck, Global Director for Video & Streaming Products at Sportradar Group AG, centred on immersive and interactive streaming. Stefano Deantonio (Marketing Director at Infront Italy), Nils Franck (General Manager of Little Dot Studios Germany), Peer Naubert (Vice President Marketing of the DFL) and Dennis Papirowski (Head of Partnership & Community DACH at TikTok) also spoke about the future of video content and interaction with fans via personalised options.
Mario Reis (Director of Telecommunications, Olympic Broadcasting Services), highlighted the importance of conveying the emotion of sporting events such as the Olympic Games. "Vision Day presented by AWS" was brought to a close by Charly Classen, Executive Vice President Sports at Sky Germany, who outlined ideas for more sustainable media production.